530 Burns Gallery for Joan Konkel Artexpo NYC 2019
April 4-7, 2019 New York City, NY Booth #446
Each year thousands of art industry insiders flock to Artexpo New York at Pier 92/94 in search of the art and artists that will shape trends in galleries worldwide. Hosting more than 15,000 avid art enthusiasts annually, it is the largest international gathering of qualified trade buyers.
Attend the show:
Friday, April 5th, 10am - 8pm
Opening Night Reception: Friday, April 5th, 4 to 8 PM

Saturday, April 6th, 11am - 7PM
Sunday, April 7th, 11am - 6PM
Be our guest and Attend the show: Click here to receive your complimentary ticket!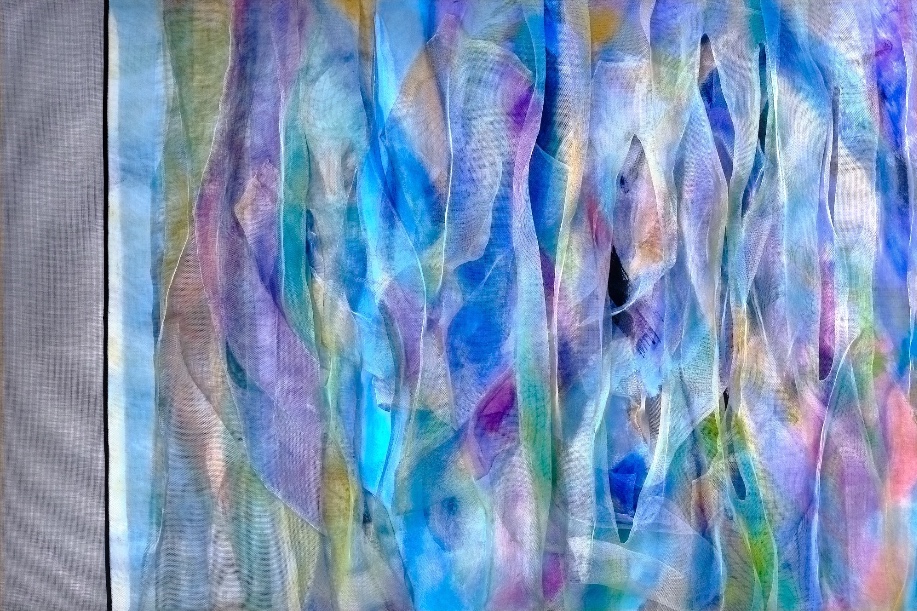 530 Burns Gallery to feature work by Joan Konkel
(Sarasota, FL) 530 Burns Gallery presents "Joan Konkel" at Artexpo New York. The exhibit features innovative three-dimensional wall sculpture by DC-Based artist Joan Konkel, which embodies the 2019 curatorial theme [TRANSFORM]. The exhibit will run from April 4 to 7 at Pier 92, 711 12th Avenue, New York, NY 10019. For more information about this show, call 941-951-0620 or visit www.530burnsgallery.com.
Konkel's work begins with canvas and the concept of "painting" but quickly transforms into the third dimension as she superimposes layers of sculpted, finely woven metal mesh. By painting on the layers of mesh, Konkel makes each work a metamorphosis of color, space, and light. Konkel says, "I work with microspace, the space between the strands and layers of mesh. Within this space lies a world of moire patterns, the building and breakdown of color, and the realities and illusions of depth perception."
Mark Jenkins of the Washington Post wrote, "Color has always been important to Konkel's style, whether painted in place or conjured fleetingly by the way light plays across and through the layers of mesh... Konkel's sculptures shimmer. When the light hits them just right, they all generate rainbows."
Nikki Sedacca, owner of 530 Burns Gallery, says "the abstract nature of Konkel's work leads viewers to look more deeply into their own 'layers' and the complexities that make their lives individual. The fixed sense of self dissolves into the allure of an ever-changing Konkel piece as the eye moves through the pulse and vibration of each layer."
Konkel received her BFA from San Francisco College for Women at Lone Mountain. She then moved to Washington, DC, where she studied at The Corcoran School of Art and earned her MFA in sculpture from George Washington University. Konkel's work is in many international corporate collections and permanent museum collections, including the Museum of Art, DeLand, FL; the Polk Museum of Art, Florida Southern College, Lakeland, FL; and Golisano Children's Museum of Naples, Naples, FL.
About 530 Burns Gallery
530 Burns Gallery, located in Sarasota's historic Burns Court, was established in 2009 by Nikki Sedacca and Montana Taplinger. The gallery shows both local and nationally-based established, mid-career, and emerging artists. Artists' work range from abstract to contemporary impressionism with mediums including oil, acrylic, glass, welded-metal, resin, and mixed media. With bi-monthly exhibitions and meet-the-artist events, the gallery is constantly evolving, showcasing fresh talent, and displaying new, innovative work. Visit
www.530burnsgallery.com
As works become available, they will be posted below.