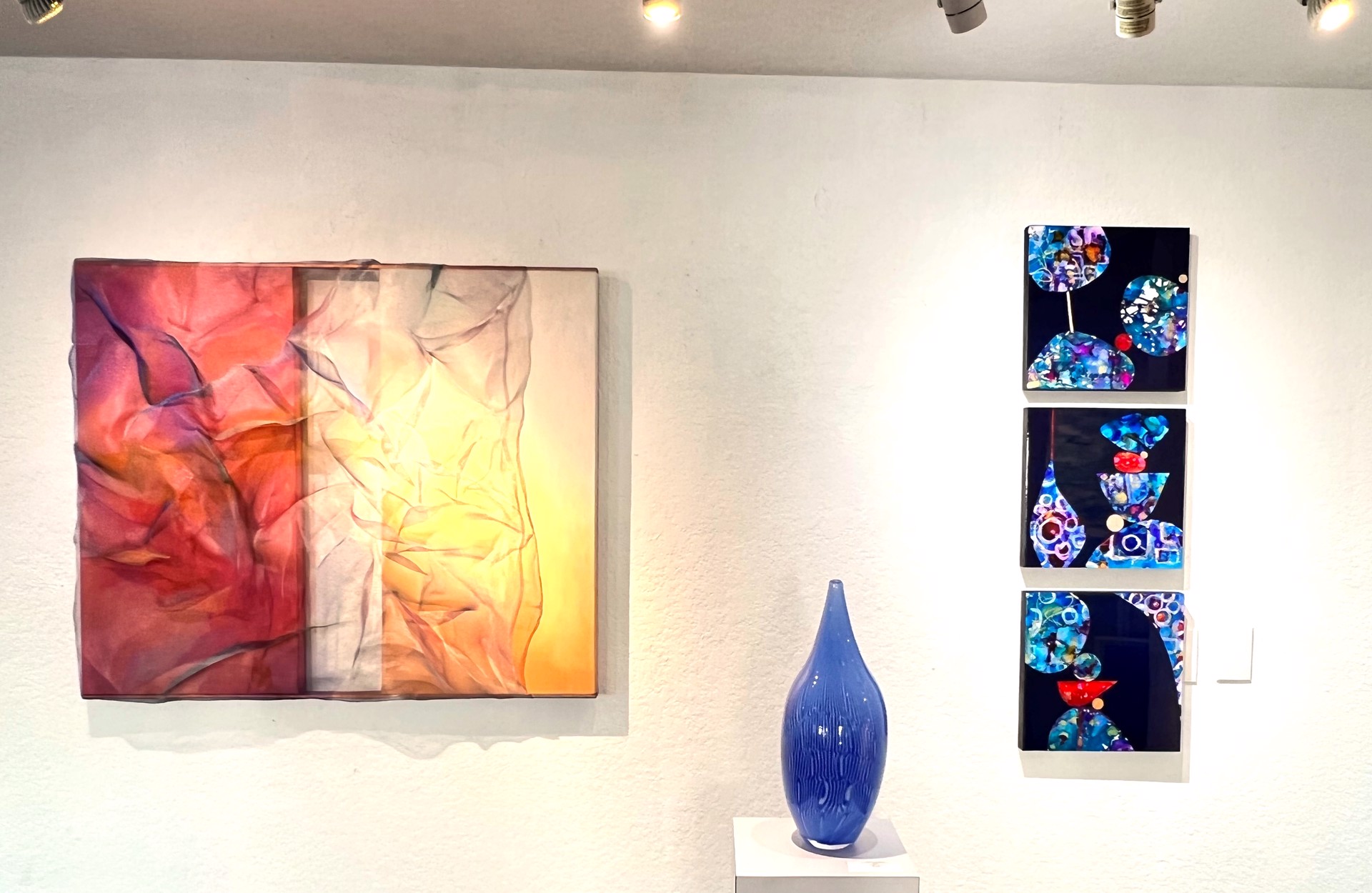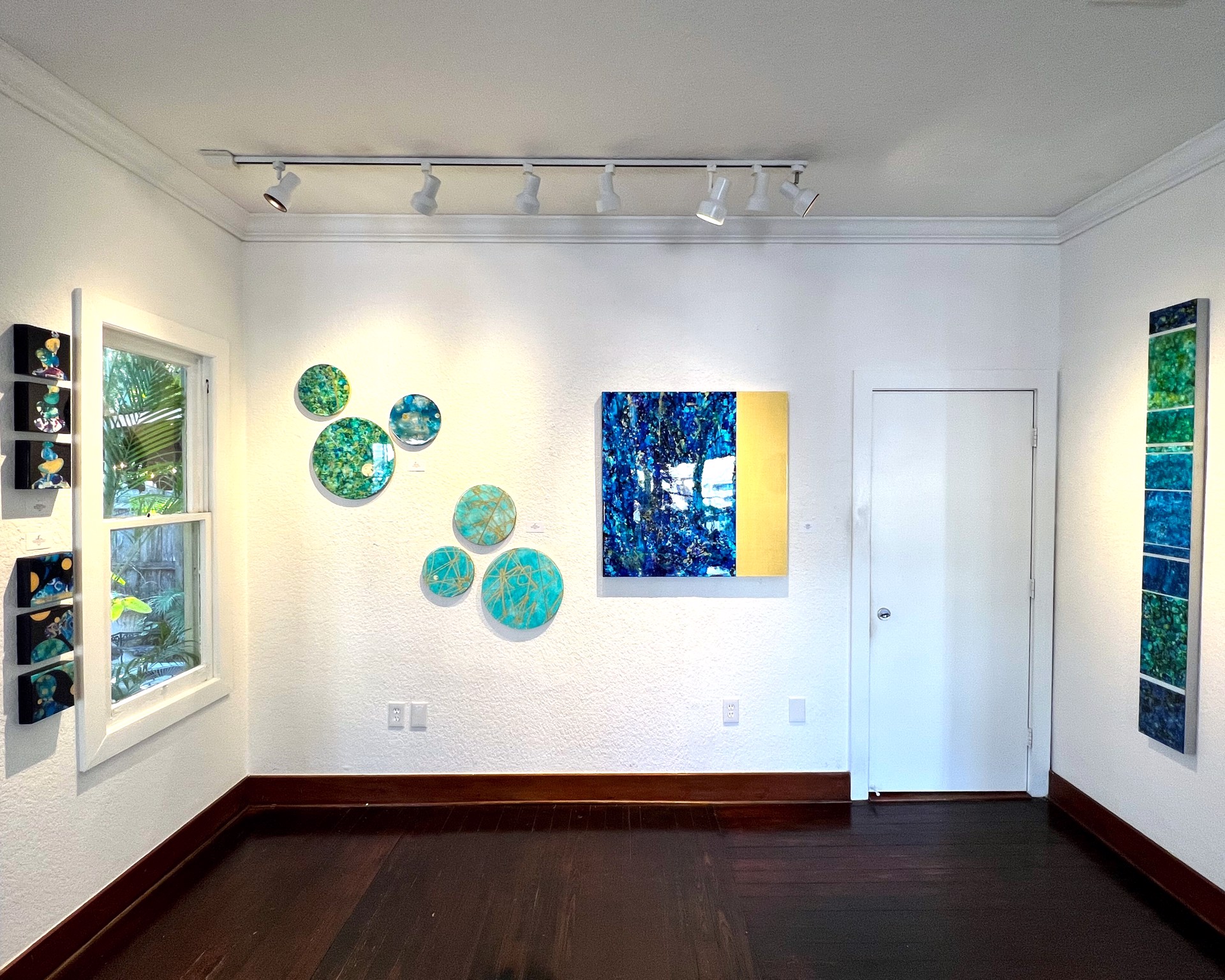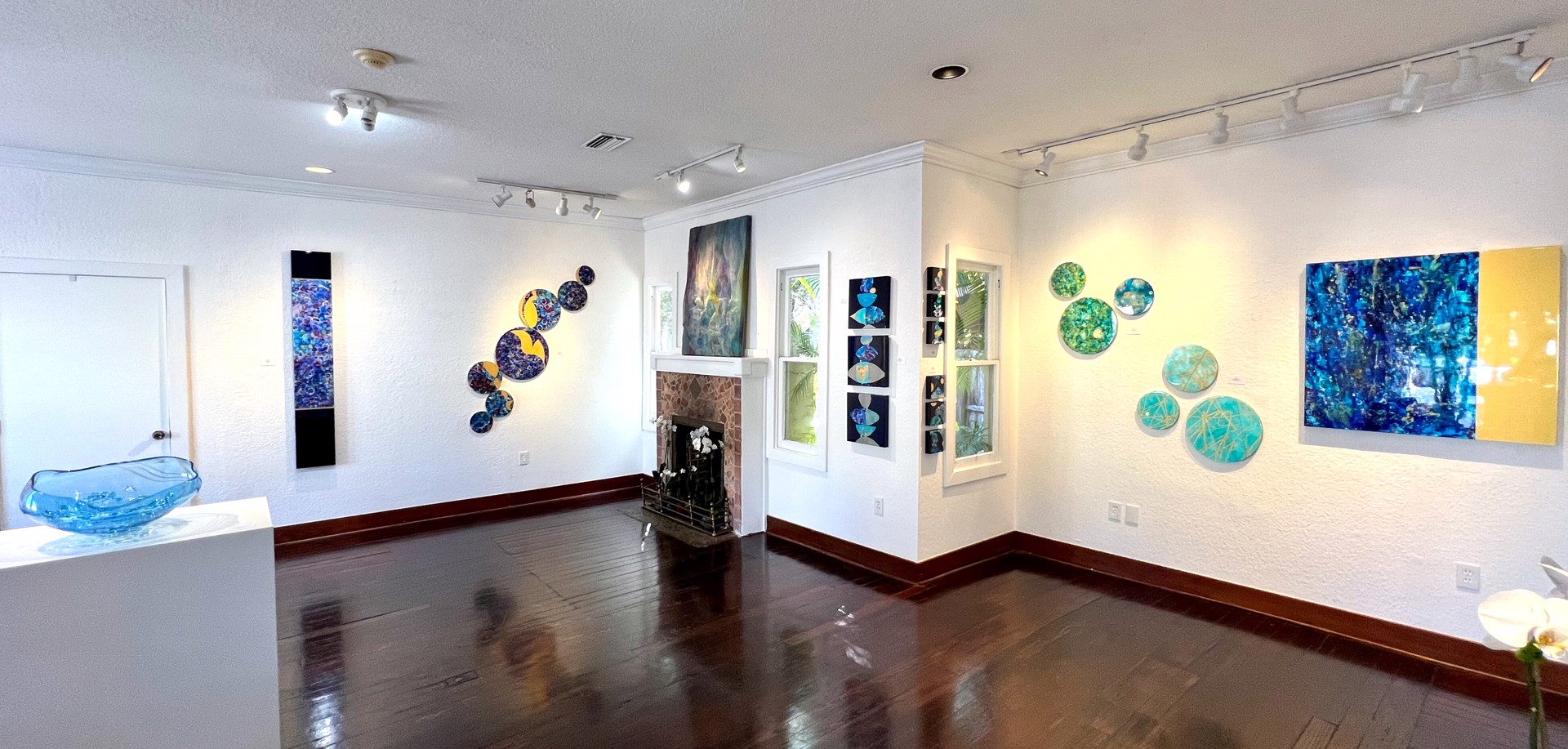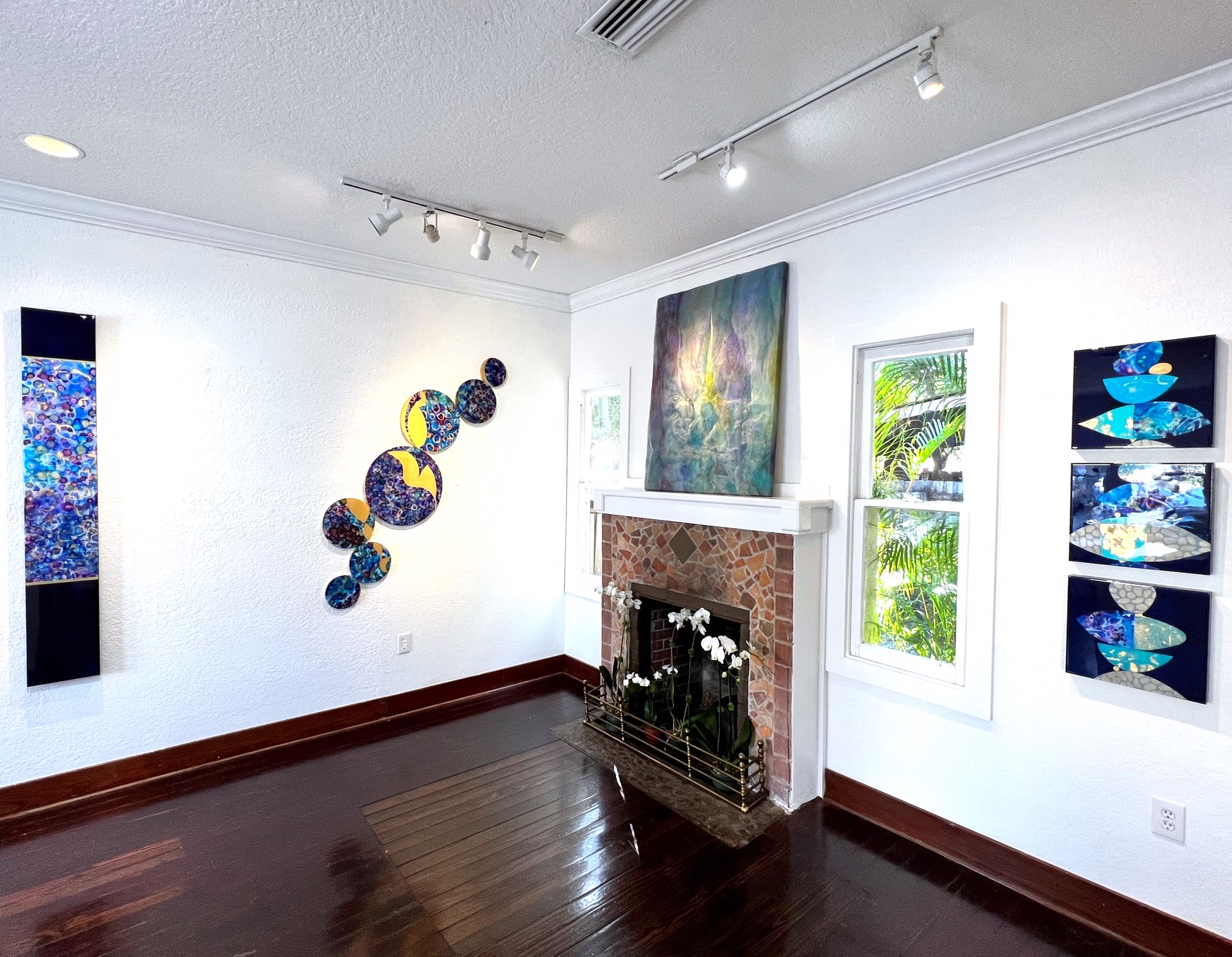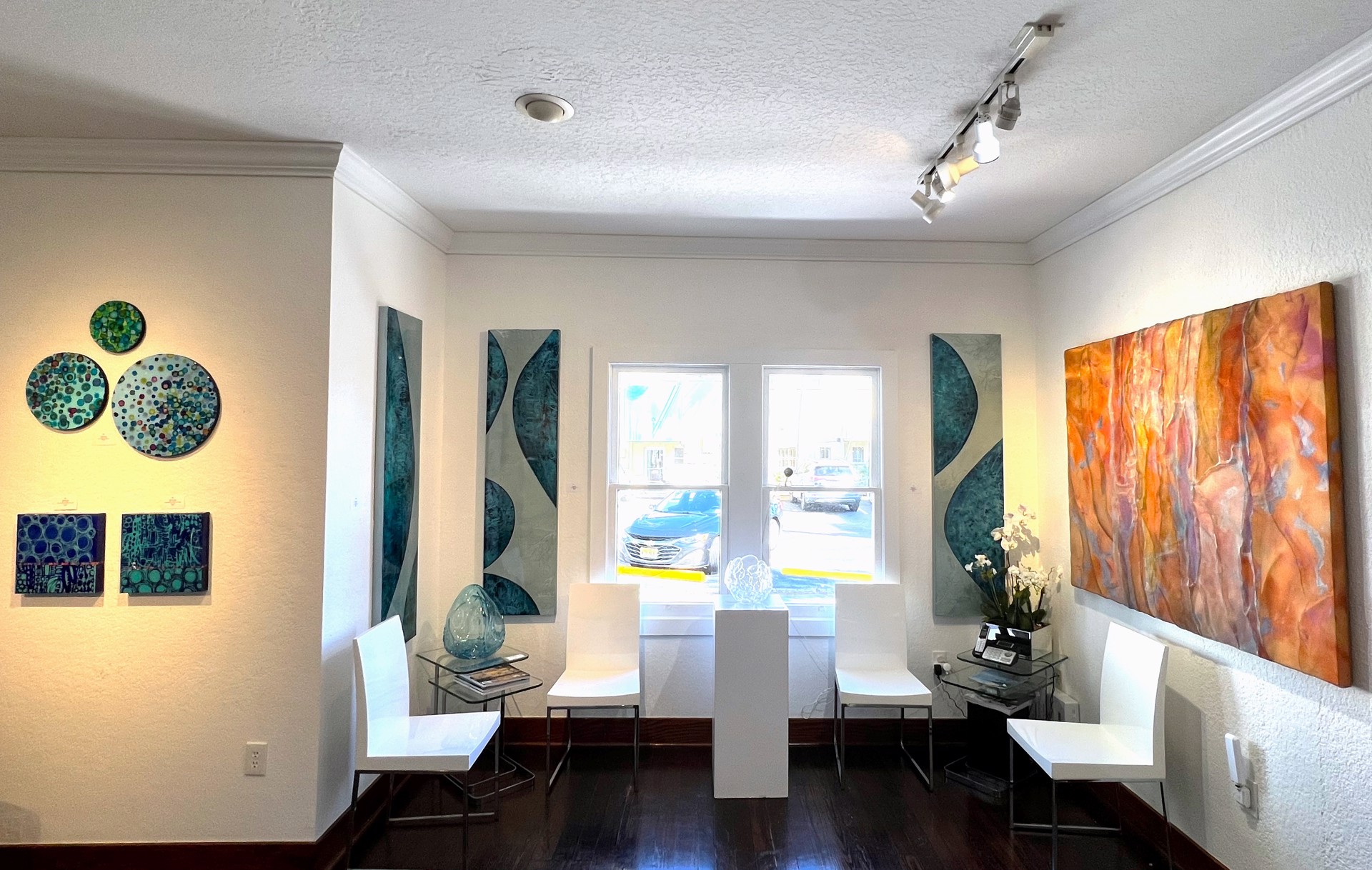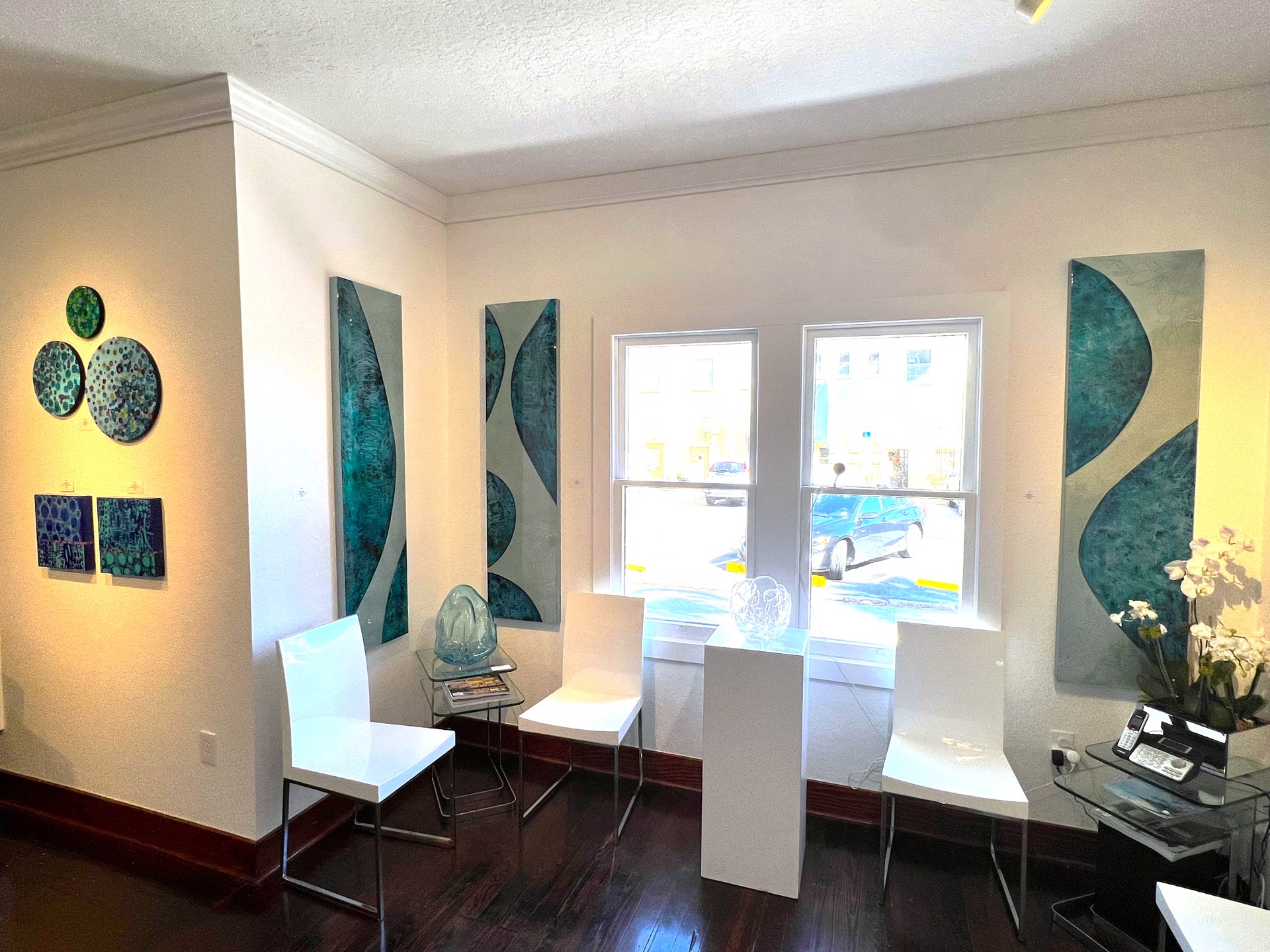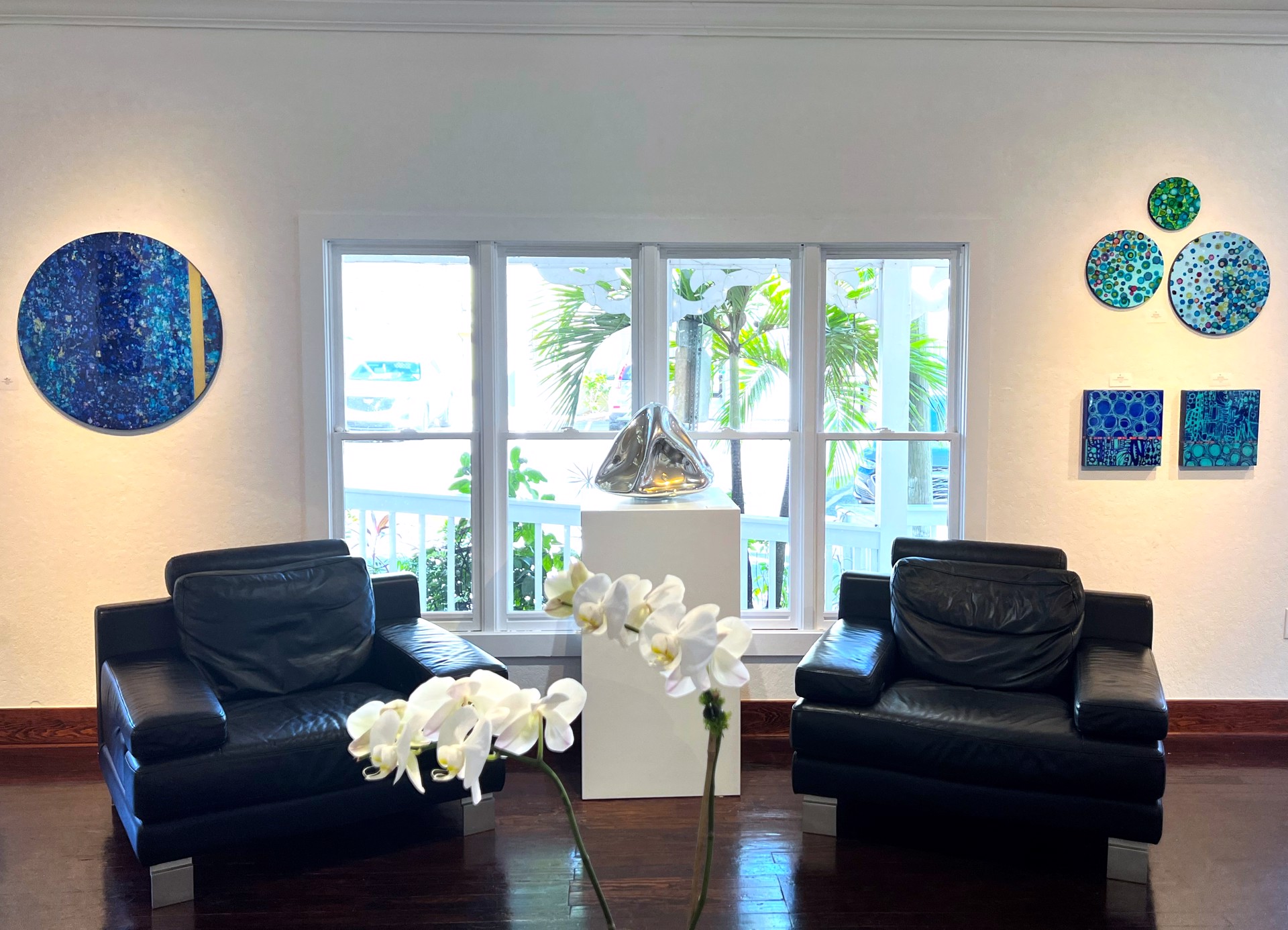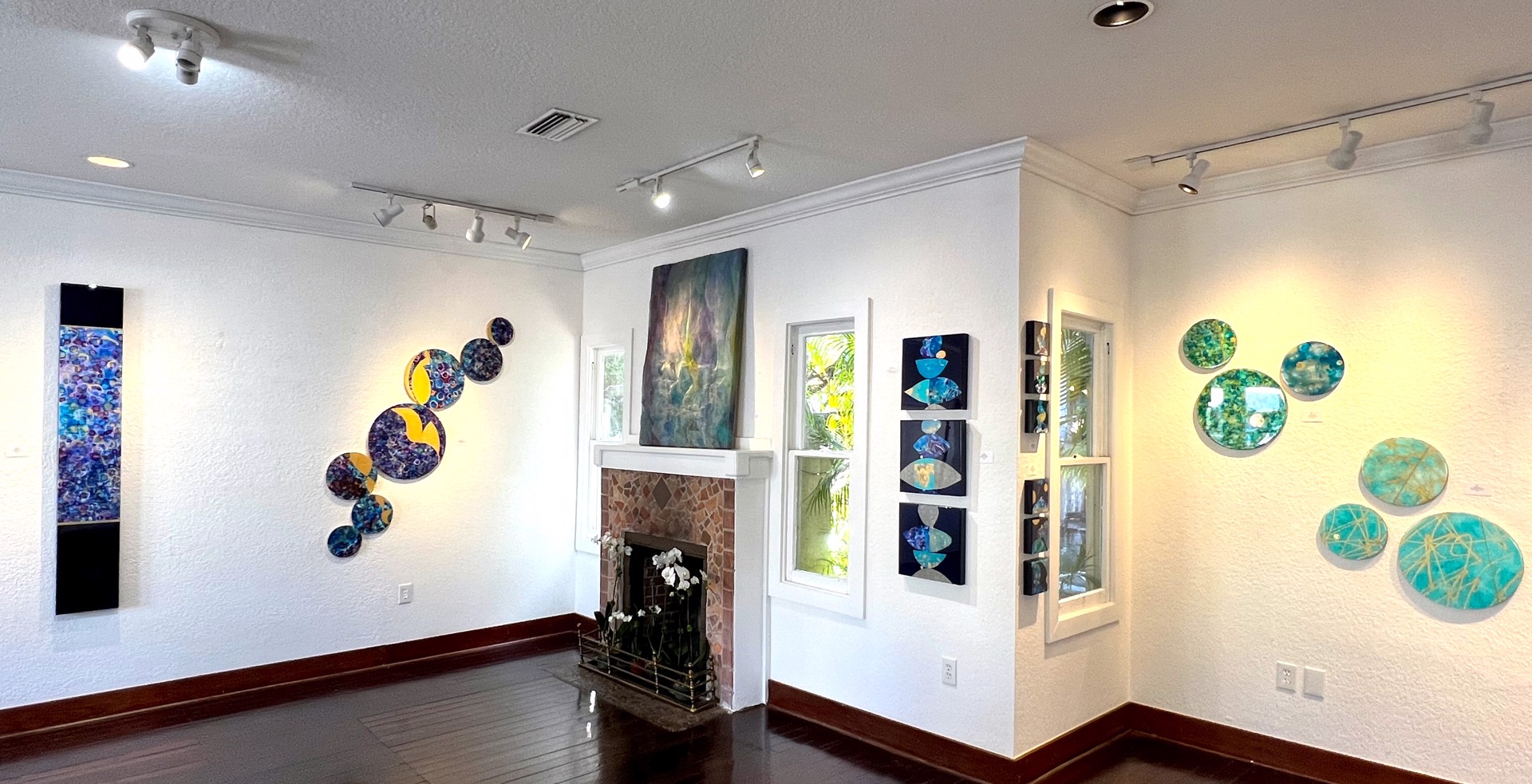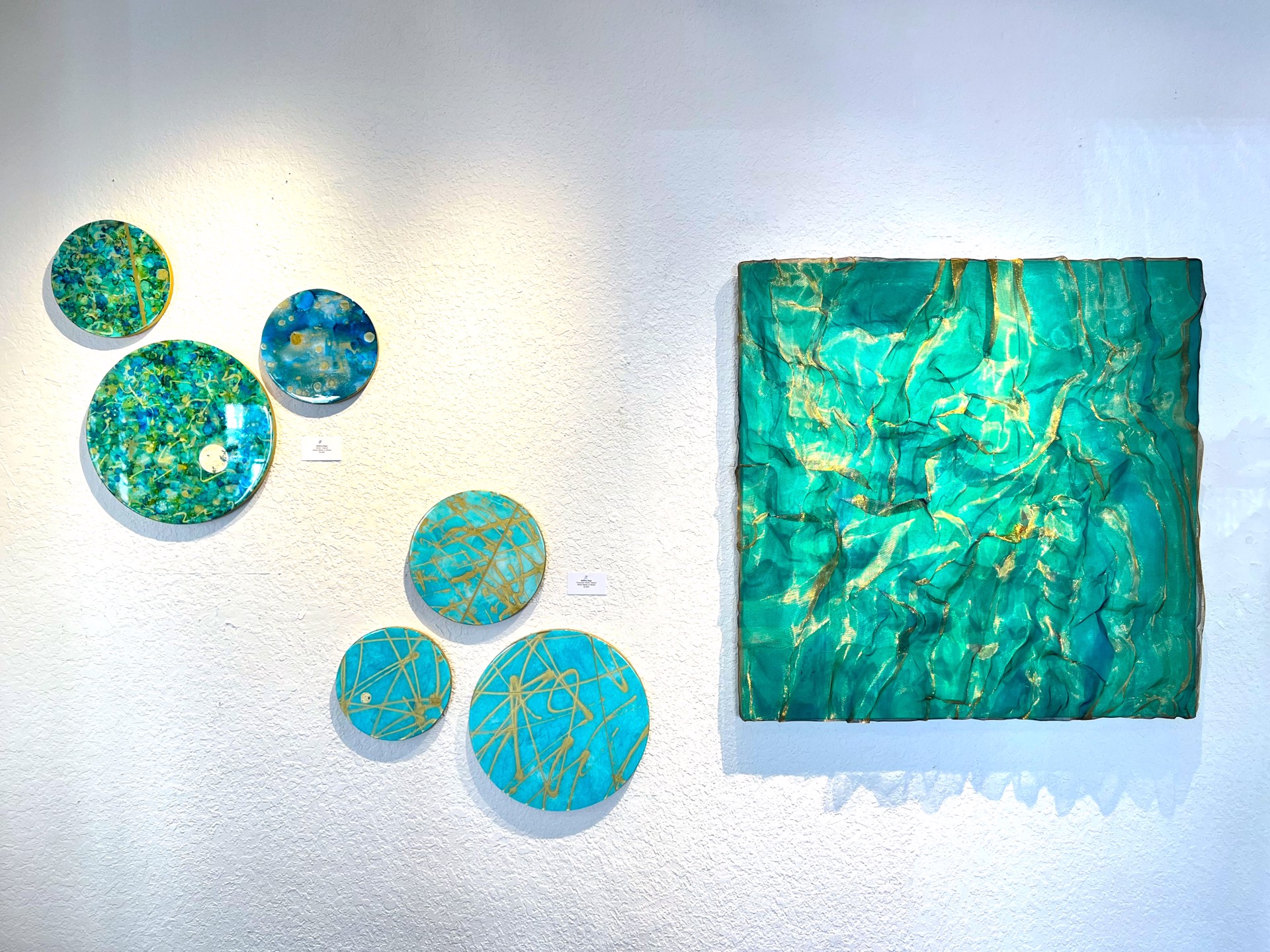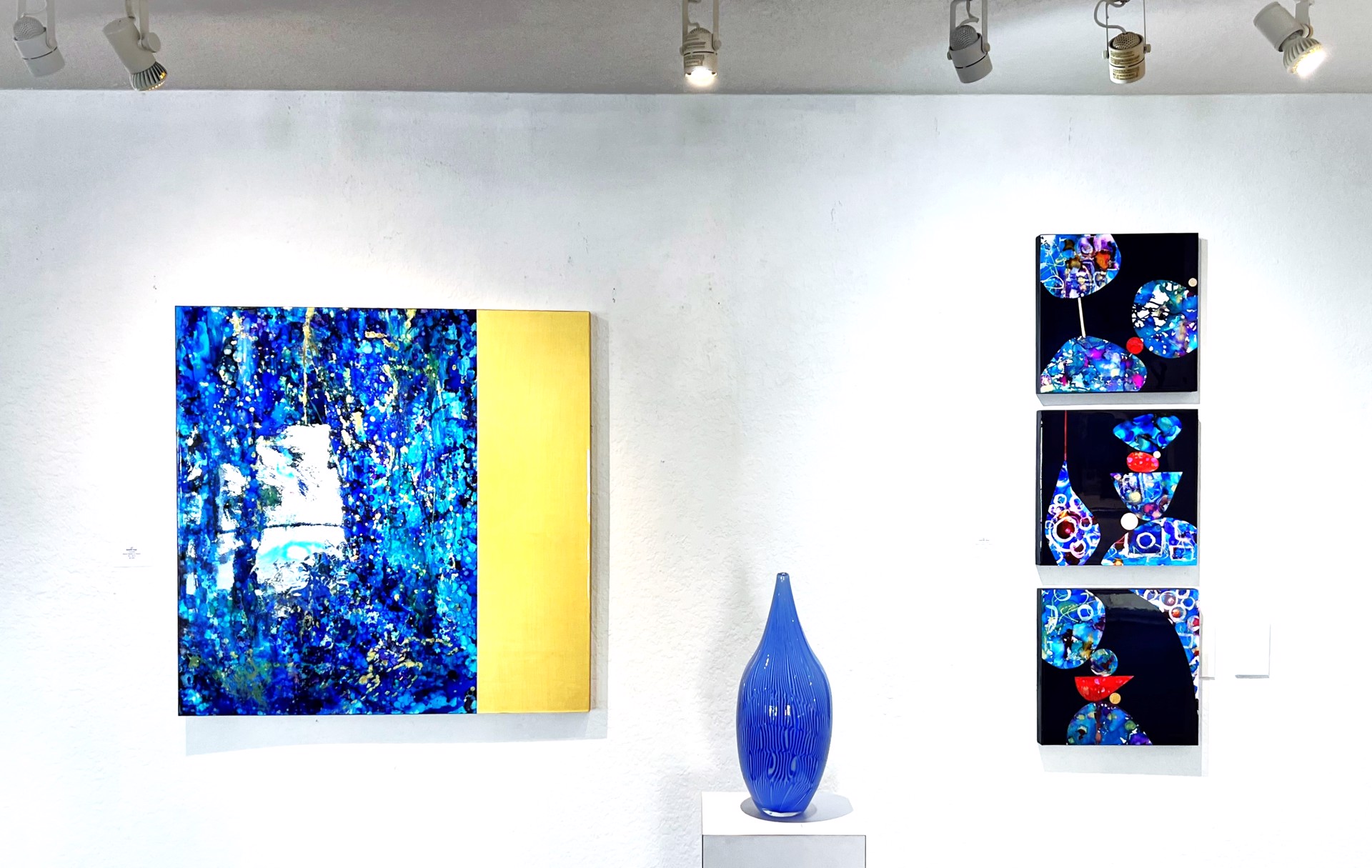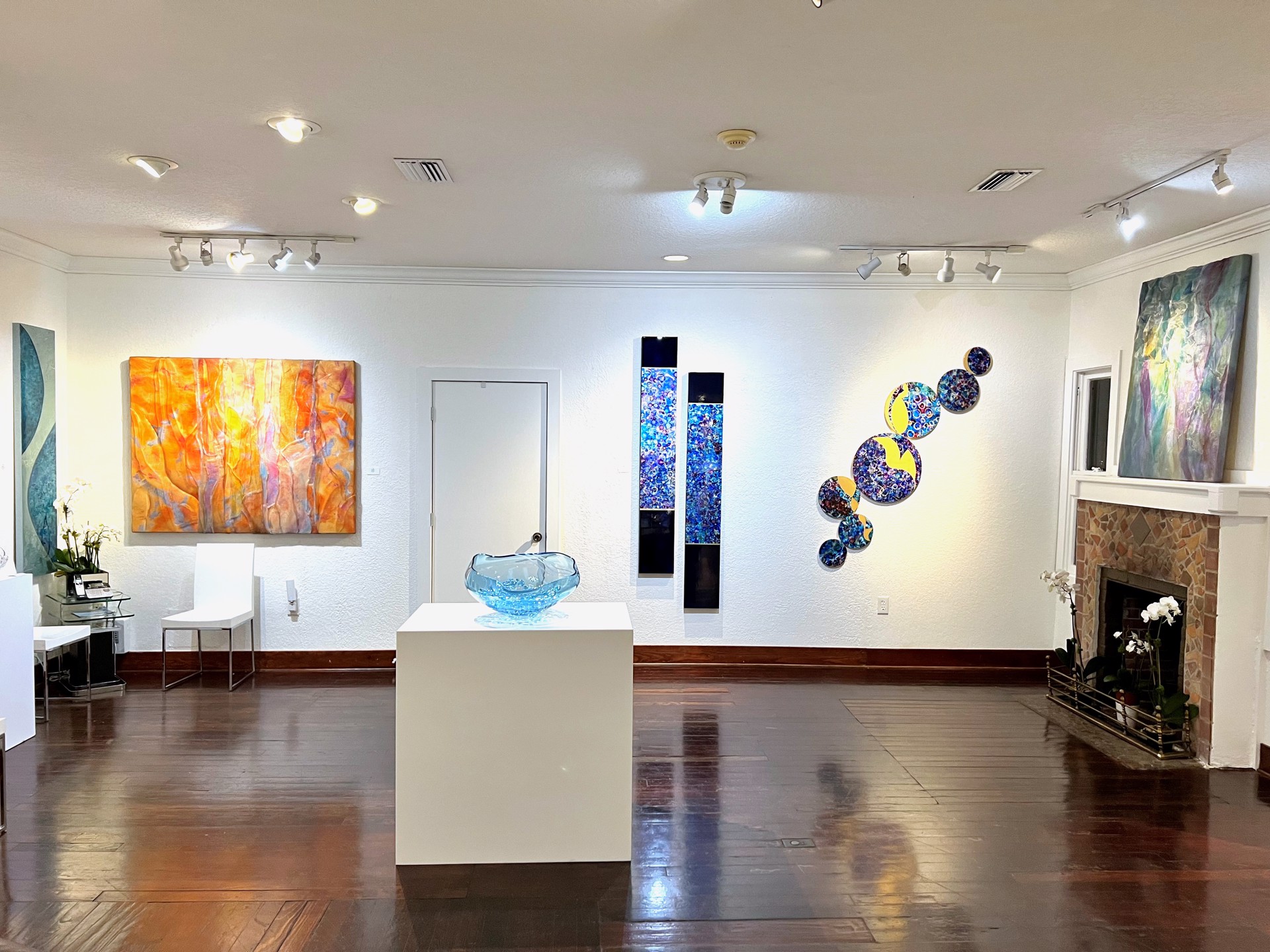 Reflected Dimension is a group show featuring new works by German-American artist Bettina Sego, and national contemporary artist Joan Konkel. The combination of Bettina's bold & vibrant pieces, paired with Joan's sculptural wall art is a duo destined for success. Migrating from Sego's resin reflections to Konkel's dimensional mesh will keep you engaged as you drift through the grand room of 530 Burns Gallery.
Bettina Sego is an artist who has built quite a name for herself in the Sarasota community. She highlights key colors and bold hues with a carefully poured epoxy coating. Bettina's pieces have been showcased and collected internationally in Germany and Canada. She shows her artwork throughout Florida, and it has been seen at Spectrum, a satellite exhibition of Art Basel. Bettina's newest series takes a different approach to shapes but still maintains a coastal aesthetic with her signature resin pour. Bettina has her finger on the pulse when it comes to current contemporary trends in the fine art community. Due to her innovative technique and layering process, she is an artist to keep an eye out for. Let her latest exhibition transform your home into the contemporary masterpiece it was destined to be.
Joan's latest series takes a different approach from her shades of blue aesthetic. Warmer tones and sunset-like colors will intertwine with Bettina's resin pieces to unveil a contemporary experience Sarasota has never seen before. Konkel is another artist who is on top of modern contemporary trends. Konkel's work begins with a two-dimensional base layer of painted canvas, that soon enters the third dimension with a mesh overlay constructed from woven strands of metal or fiberglass that serve as a support for additional pigment. As an exhibitor at Art Expo in New York, Konkel has famed herself on a national scale and her unique pieces are coveted by collectors all over the country. Her distinctive layering technique has pioneered her to great success as a modern artist of the 21st century.
Both artists have provided 530 Burns Gallery with an exclusive new series that showcases their latest pieces and the inspirations behind them. The juxtaposition of the colors chosen by each artist, and the multilayered effect they'll bring by exhibiting together, will provide its viewers with a contemporary art experience that rivals top gallery exhibitions all over the country. All new works will be available once the show opens. Whether you're a new or existing collector, come enjoy Reflected Dimension with the 530 Burns team, and let them give you a glimpse of what it is like to be immersed into a contemporary world of three-dimensional mesh and epoxy reflections.
Curated by Andrew Trujillo